Closure threat to Walkley Post Office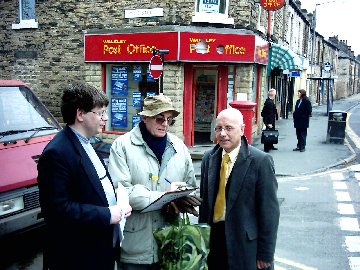 Local residents signing a petition against
the Walkley Post Office closure

The Post Office is proposing to close the South Road branch in Walkley along with another 15 branches across Sheffield - almost 20% of the whole network. The proposed alternatives take no account of Sheffield's geography and involve going up and down steep hills. South Road is almost the only flat street in all of Walkley!

The closures have come because of the Labour Government's insistance on paying pensions and benefits direct to bank accounts, ignoring protests from Post Office user groups.

Walkley councillor Jonathan Harston, former Chair of the Post Office Advisory Committee, said:

"The threat to close so many Post Offices has resulted in my biggest casework postbag ever. I had more than 50 letters within two days of the announcement, and more are still coming in. I had people queuing up to sign our petition on South Road.

"Post Offices are the hearts of local communities and closing branches makes it harder for communities to thrive."

All Sheffield's Labour MPs voted in favour of a motion congratulating the goverment on the new benefits system and the Post Office closure program. They voted against an amendment that deplored the closure of Post Offices. They are voting for closures in Parliament and then campaigning to keep them open in Sheffield. The LibDems voted in Parliament to stop the closure programme and have always been committed to keeping Post Offices open.

Local LibDem councillors Jonathan Harston and Steve Ayris are calling on the Post Office to explore all possible options to keep a Post Office in Walkley.

Anybody who wants to comment on the closures must write to:

David Mellows-Facer, Post Office Ltd, PO Box 2060, Watford, WD18 8ZW

before 28th May 2004.